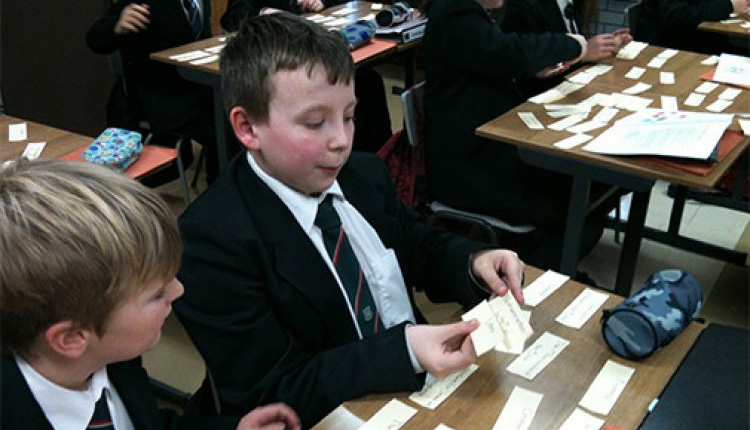 Many aspects of life in the 21st century are affected by religion. Therefore a study of religion is both appropriate and essential to education. Our aim is to provide a framework in which pupils may be well informed and objectively reflect upon their beliefs and the beliefs of others. It is our wish that this will complement the religious and/or moral education pupils receive at home or in their local faith community.
Although RE is a subject where there is ample opportunity to develop reading and writing skills, we try also to make lessons active wherever possible.

Staff
Mrs H Fillis (Head of Department)

Curriculum
Religious Education is part of the curriculum for all pupils in Years 8-12. In Key Stage 3 pupils follow the Core Syllabus from the Department of Education. Their study is divided into 4 sections: the Revelation of God, The Christian Church, Morality and World Religions.
The first three of these sections are taught in an integrated way.
World Religions: as well as Christianity, pupils learn about two world religions, Judaism and Islam. Judaism is taught in Year 9 and Islam in Year 10.
In Key Stage 4, Religious Studies GCSE is available. GCE AS and A level Religious Studies are available in the Sixth Form. The department currently uses the CCEA Examination Board for these external qualifications.

Facilities & Resources
There are two classrooms used specifically for RE. Both are equipped with a data projector to facilitate optimum use of audio visual resources and teaching methods. As well as purchasing printed resources, we often produce in-house teaching materials tailored to our own requirements. Pupils doing external examinations use textbooks written specifically for the course they are studying.

Trips, Visits & Careers
From time to time, we invite guest speakers to class, to enrich delivery of the topic being studied. Organisations such as The Leprosy Mission, Open Doors and The Christian Institute have supplied speakers in the past.
Religious Studies is a popular subject at AS and A level, even though there are only a few careers where it is essential. It is beneficial where pupils are applying for degrees which require no specific subjects, and feel it can lead to a good grade. Over the last few years, RS results in CHGS have been consistently above the Northern Ireland average. Additionally, the ability to present and argue a point of view, and the essay writing skills learned in RS prove invaluable when embarking on degree courses in all subjects.
Students of Religious Studies can go on to have careers in areas such as teaching, medicine, public service, advice work, counselling, journalism, ministry, social work, charity organisations, youth work and community work. Many of the courses leading to such careers will have a section which deals with the issues studied in A Level Religious Studies.
Planning for Assessment