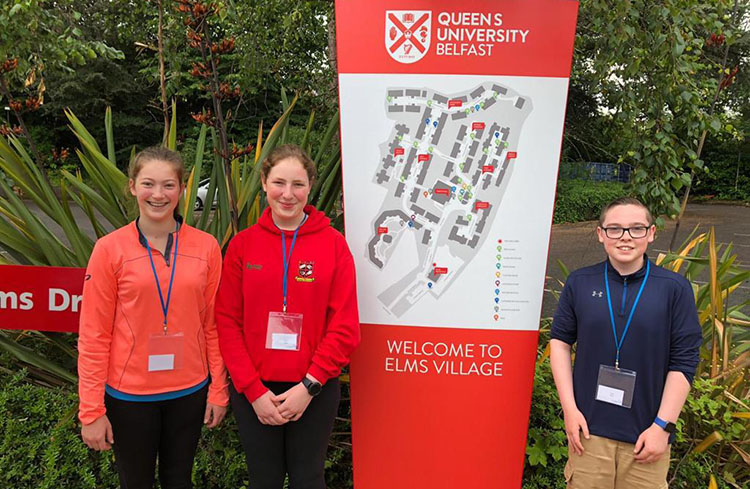 In July 2019, three pupils were selected from Year 10, to attend a residential at Queen's University Faculty of Engineering. The three-day course, sponsored by the Small Piece Trust, allowed pupils to work with other pupils from across the UK to compete in a series of tasks and challenges, whereby they needed to find solutions to real-life scenarios. The hope is, these pupils will go into a career in this field and help develop and innovate our future world. Below are accounts of the pupils that attended the trip.
Holly's Account
At the start of July, I was fortunate enough to attend an Engineering Experience at Queen's University, Belfast. This involved staying for 2 nights in the university halls and participating in multiple tasks and challenges. The course held 60 people and we were randomly split into 12 teams. In our teams we then had to compete against the other teams to win prizes. We also had company presentations from Thales Engineering, Bloodhound, Network Rail and General Electric. My team won both of the challenges.
For the Thales challenge, we had to build a missile that would fly twenty-five metres when shot out of a pressurized container. For winning this challenge, my team won a tour around the Thales factory in Lisburn that I enjoyed at the end of August.
The second challenge was for Bloodhound. Bloodhound is a company that is trying to beat the world land speed record by travelling at a speed of one thousand miles per hour. Bloodhound set multiple tasks, including building cars out of K – Nex and a giving a presentation.
The toughest Bloodhound task was to make a superfast car. The prize for winning the Bloodhound challenges was extremely exciting….when the Bloodhound travels to South Africa for speed testing in October, there will be a cover over the car's fin. This will have the names of famous people involved in the project on it. They then announced that as the overall winners, my name (along with the names of my four other teammates) will also appear on this cover and we will each receive a certificate and photograph of it - what fantastic way to end a fabulous 3 engineering days at Queens!!
Parris' Account
During the summer I completed an engineering experience run by The Small Piece Trust and this took place at Queen's University from the 8-10 July. There were three of us including Jack, Holly and I. During our stay we were located at the Elms where we had our breakfast. We arrived early in the morning and got checked in. Once we had done that we were off to Queen's to start our first day of Engineering.
We started off by being categorised into groups and then we done a couple of silly games, one of which we had to make a chair out of balloons and they weren't allowed to burst with the weight of a human being sitting on it. After that a company came in called Thales and talked to us. We then had a task were the aim was to build a plane or rocket which would take a supply of fuel to the rocket that was abandoned. The rocket would then be placed on a pump and when it had completed the task, you had to detach it from the pump and it should go gliding through the air to reach 40 m target. We had a day and a half to complete this task, with lots of problem solving and different ideas to contests with throughout the assignment. We eventually came up with a solution, were we made a rocket with three fins at the back tilted to the right, so that it would glide through the air whilst giving enough speed to reach the 40 metre target. We tested it out and it didn't work, but we kept trying and adjusting our design until we finally achieved the target. I really enjoyed taking part in this task and enjoyed hearing everyone's different ideas.
That same day we had another company come in and they were Bloodhound, I was really excited for this one because I remember when we were at Birmingham NEC with the Cambridge Contrive Crew and seen the fastest car in the world, Bloodhound. During the time with Bloodhound at Queen's we done some fun activities such as building K-nex cars and seeing how fast they can travel. This was great fun to be part of a team and work together. It was then we were hit with another task and this was to carve a car out of foam, attach it to string, place a rocket in the back of it and send it off.
We came up with an idea of cutting it in from the side and then putting a slope at the front so it would glide through the air faster. We didn't win but we had a great time and enjoyed seeing how others solved the problem in a different way.
Well done to Holly's team who got their name put on the Bloodhound car which will be setting a new world record in October situated in South Africa.
Overall I had a great experience at Queen's University and have learnt many more things about engineering, as this is a career path that I would definitely love to go down.
Jack's Account
Over the summer two others and I, attended an engineering experience at Queen's University Belfast from the 8th to the 10th of July. When we arrived, we were signed in and we were allocated a room which we would stay in for two nights. Later on then, we were devised into our groups which was a great opportunity to find new friends and work together as a team to find solutions to various problems.
When we left the accommodation, we were very eager and enthusiastic to get started as our itinerary was jam packed with lots of exciting things for our first day. These things included; talks from major leading engineering companies such as Network Rail, Thales and Bloodhound. Between company presentations we were instructed in our groups to make a project.
Our first project was given by Thales, this project entitled building a rocket out of select materials such as cardboard, paper, wooden rods and tape. In addition, Thales told us that we had to make it fly 30 metres with a certain measurement of PSI. To make the situation more realistic there was cost on all the materials we bought for our rocket, which allowed us to manage our own finance which will be useful for the working industry. However, overall my team came in second place which we were all very pleased with, especially as it was our first time creating such a product.
On day two, after breakfast we left the accommodation as eager as yesterday and arrived at the campus, we were very excited to hear that we had a surprise company presentation by Microsoft. This presentation from Microsoft was based on the Northern Ireland site of the company. The presentation incorporated what Microsoft did in NI and how their roles played a part in Microsoft. We were very inspired after this particular presentation because of how interesting these people's jobs were and how they played their part in the engineering industry.
Our next company presentation was by General Electrics which was especially interested as they brought in very technical examples of pieces of equipment that played a vital role in a power station and then they came around each individual group explaining what it did. Our next design and make project were given to us by Blood Hound which was to design and make a rocket car using polystyrene and plastic wheels. However, before this we had to make a car out of Lego connect to do certain challenges in which our group won the first challenge. Once, these challenges were completed we could start by making our rocket cars. Our design was simple, as we had designed our car to be as small in measurement and to make our car even lighter, we removed some of the spokes which in the end had a dramatic improvement.
On day three we would put our plan into action and deliver a fully finished rocket car which had a few minor errors, but mainly was well designed and built. Our last challenge given to us by Bloodhound was to give a presentation to all of the groups on how and why we designed our car the way it was and how each member of our team played an important role in making our project. I can proudly say that our team won the presentation task, however despite not winning the Bloodhound overall challenge, we were thrilled to take part and even win some challenges. We then returned to the lecture theatre for the final time and closing address.
All in all, I really benefited from my engineering experience as I learned life skill such as managing finance and working in a team with others who I had never met before and would recommend the course to anyone thinking of doing it.