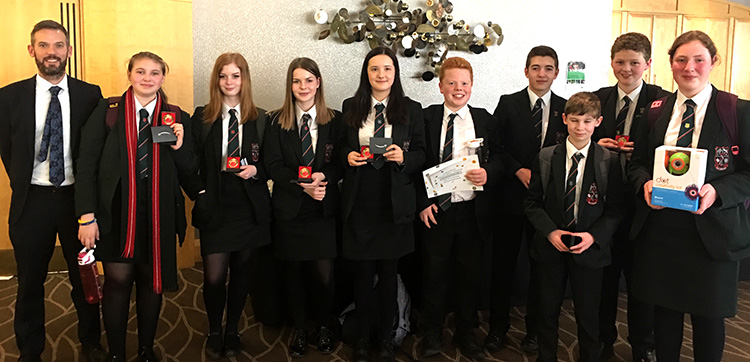 PwC Hive Tech Academy Innovate Program
Two teams from Year 10 travelled to Belfast last week to take part in the PwC Hive Tech Academy Innovate Program. This was a 4 day event that ended in the teams pitching their idea to a panel, Dragon's Den style. Team 1 was comprised of Jack Campbell, Jake Gamble, Parris Logan, Luke McConnell and Scott Millar and Team 2 included Liliy Boulding, Lucy-Mae Butterfield, Emma Craig and Lucy McKinney.
The teams were tasked with designing an Internet based device that would solve a problem for a given group of users. The device had to have an app interface (dashboard), collect and analyse data, use a mixture of Virtual and Augmented Reality or Robotics and store its data securely. They also had to come up with a marketing campaign and explain how the device would make money.
Once the teams had refined their ideas, they pitched to a panel of Dragons. The panel included Justin Edwards (Head of CCEA), Directors of PwC and school Principals. They then had to answer any and all questions asked by the Dragons.
While neither team made the final 6 (out of 20+ teams), one of the teams (Lucy McKinney, Emma Craig, Lucy-Mae Butterfield and Liliy Boulding) were highly commended and each won an Amazon voucher. Scott Millar won a prize for best communication during the pitch and both teams earned their school a programmable robot for use in IT classes.