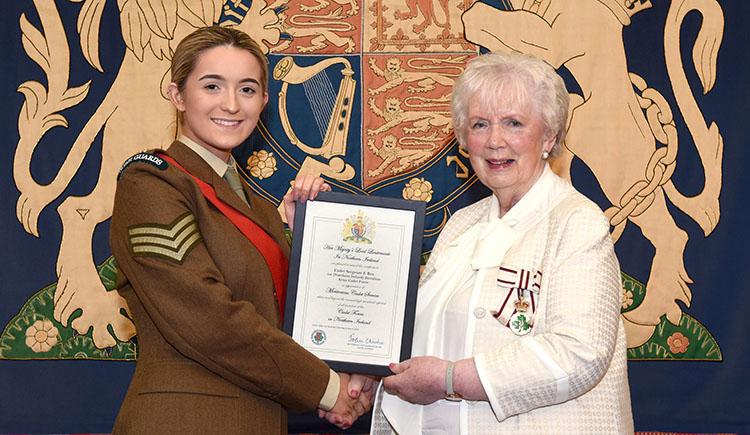 HILLSBOROUGH HONOUR FOR ELLEN
Ellen, has been honoured at a formal ceremony at Hillsborough Castle where she was appointed to the role of Her Majesty's Lord Lieutenant's Cadet for the County of Antrim.
Ellen, who is is currently the most senior member of Cullybackey Detachment Army Cadet Force, will be one of eleven Lord Lieutenants' Cadets taking on a year-long role which is largely ceremonial. She can expect a busy year ahead, attending Mrs Joan Christie, Her Majesty's Lord Lieutenant for the County of Antrim, on major civic occasions. In recognition of the award, Ellen will wear a special insignia on her uniform throughout her year in office.
Ellen followed her elder sister into the ACF in 2015 and immediately established herself as an asset to the Detachment, setting herself a high standard of both performance and turnout and rising to the rank of Cadet Sergeant.
The Citation which accompanies her award highlights the 'maturity and ability to communicate with both adults and cadets' which have combined to fuel her swift progress through the ACF syllabus. In the last three years she has taken part in the Irish Guards Military Skills Competition, helping to train the team for the Drill section of the event, and showing dedication, leadership, and communication skills in doing so. She has also represented her Company in the Battalion Drill competition last year.
Ellen has been instrumental in helping the Detachment Adult Instructors in organising events outside normal training periods, encouraging her Cadet peers to get actively involved in community projects such as The John Muir Award 'litter pick' in Cullybackey.
Always up for a new challenge, Ellen was a driving force behind a programme of kayaking 'taster' events, leading to a number of cadets from across County Antrim receiving their Paddle Sports Start Certificate, on the road to gaining their one star level.
For the last two years Ellen has been proud to be a member of the Remembrance Day wreath-laying party in Cullybackey when her appearance, presentation and bearing, were favourably commented upon by the Royal British Legion.
Eager to give support to local good causes Cadet Sergeant Rea is currently organising the Detachment cadets and adults to collect 'ring pulls' to help the Ballymena Sea Cadets, who are collecting them to raise money for Help the Heroes,
For the past two years she has helped the Cullybackey Community Group at weekends to tidy the village as part of the Village in Bloom Competition, helping them this year to receiving national recognition.
Currently enrolled in the Duke of Edinburgh Award scheme, Ellen is working towards her gold award.
Ellen's Award Citation concludes, 'Her turn out and bearing is excellent, as would be expected from an Irish Guards badged cadet. Cadet Sergeant Rea is clearly an extremely enthusiastic and committed cadet, who lives by the values of the ACF. A good communicator, excellent organizer with unbounded energy, always impeccably turned out, and popular with her peers and adults alike, she has demonstrated all the qualities required to be a Lord Lieutenant's Cadet.'