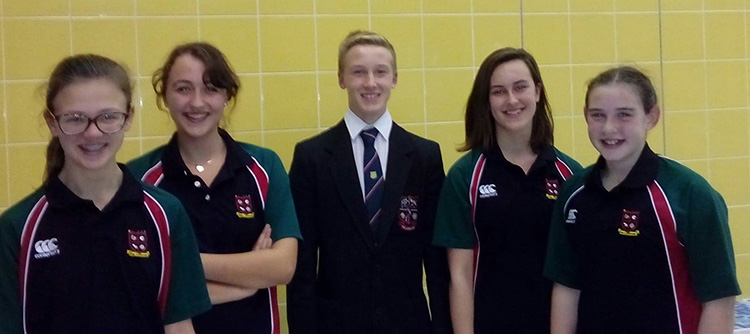 Five Cambridge House Grammar School students proudly represented the school competing against 60 schools from across the province in the Swim Ulster Schools Cup & Championships at Bangor Aurora over the weekend.
The Saturday afternoon sessions featured Emily Hill one of our new Y8 swimmers in the 11-12 years old category. Emily finished in the top ten with a personal best of 40.51 for the Girls 11-12 50 meter fly earning a place in the finals! She continued her successful afternoon with yet another personal best in 100m individual medley of 1.34.10 finishing 14th out of 54 swimmers too!
An early start for warm up at 8am in Bangor for 12-14 year old Cambridge House girls and boys with Aimee Russell year 9 first to compete in the 100m back stroke event with a new timing of 1:18.36 finishing a respectable 16th out of 100 swimmers. Aimee then went on to compete in 200IM heat declared winners finishing with a personal best of 2:52.55 in 16th position again out of 57 swimmers. Finally Aimee swam in the cruelling 400m freestyle event with her final personal best of the day knocking 26 seconds off her entry time with an amazing 5:15.25 finishing in 15th place..
Jana Greer representing the Year 10 girls finished 13th out of 31 swimmers in her 100m freestyle event with a timing of 1.10.84 and placing 27th out of 57 swimmers in 200m Individual Medley with a great finishing time of 3.00.56.
Matthew Evans swam extremey strongly in both his next events with an amazing new personal best time of 1:21.91 in the 100m breast stroke earning him a well deserved place in the finals finshing in the top ten. He continued his winning streak with a remarkable 6th place in 200m Individual Medley with a personal best timing of 2:38.49!!!
Jessica Wainwright took the baton for the school swimming in the Senior session in the afternoon. Both strong swims finishing well in 100m free with a personal best timing of 1:15.35 .
A fantastic day of superb competitive swimming for the School!